WEDDING AND RECEPTION ROOM SAÔNE ET LOIRE
WEDDING AND RECEPTION ROOM SAÔNE ET LOIRE
Ideally located between Beaune and Chalon-sur-Saône, the Hostellerie Bourguignonne reveals its many charms for your private receptions. This characterful building, typical of the region's architecture, has managed to preserve its unique classical character, while combining modern inspirations in the restaurant's decoration, equipment and cuisine. In the heart of its superb park, on its beautiful terrace, in the lounge by the fire or in its elegant dining room, the different spaces are the ideal setting to celebrate the great moments of your life, surrounded by those you love.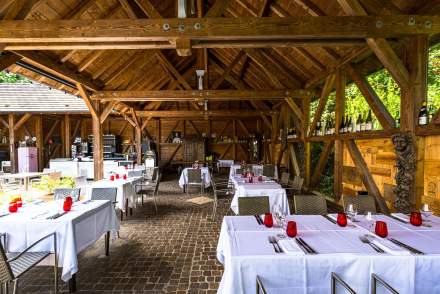 Privatization for your events in Burgundy
PRIVATISATION FOR YOUR PERSONAL EVENTS IN BURGUNDY
Celebrate your wedding in Saône et Loire in complete privacy, by privatising this peaceful and charming venue, to make the most of this unforgettable day! Choose conviviality and serenity for your birthdays or any other meeting with family or friends. The establishment can be privatised all year round, allowing you to accommodate your guests on site, while enjoying the reception room and its warm nooks and crannies, in a lounge by the fire or in the pleasant garden, and the many services on offer. An easy and tailor-made organisation, in a place where you feel good... and at home!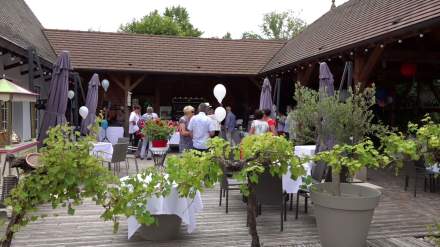 Benefits and service
Privatization of the hostellerie bourguignonne all over the year
7 rooms and 2 suites with private bathroom
Pleasant garden pool with fish, sunbathing for moments of relaxation
Dining room and outdoor terrace (up to 200 people)
A cozy and warm living room, by the fireplace
Bar avec belle sélection de rhums et whiskys
Park with century-old trees
Possibility to rent bikes nearby
Lunch Bag to go on day bike rides
Possibility to dry the clothes of the cyclists
Children's play area with swing
WEDDING AND RECEPTION NEAR CHALON-SUR-SAÔNE


 
Large-scale wedding meals or more intimate celebrations, in a private lounge by the fire: everything is possible at the Hostellerie Bourguignonne. The establishment offers several spaces to organise your personal celebrations, all year round, as well as a catering service by Chef Didier DENIS. You can also take advantage of the numerous services to liven up your days with family or friends
your personal celebrations, all year round, as well as a catering service by Chef Didier DENIS. You can also take advantage of the numerous services to liven up your days with family or friends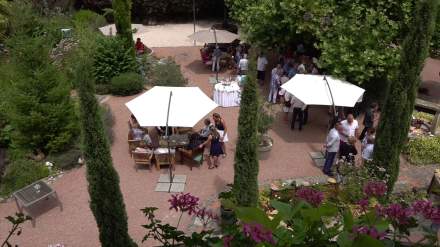 information and reservation
To share your wishes and constraints, do not hesitate to contact the Hostellerie Bourguignonne by telephone on +33 3 85 91 51 45 or by e-mail contact@hostelleriebourguignonne.com